If your organization wants to do business with big-box retailers or online marketplaces, you may be asked to perform electronic data interchange (EDI). Your immediate challenge may be that you're unsure of what EDI actually entails.
Simply put, organizations use EDI to send information digitally from one business system to another using a standardized format. Purchase orders, invoices, and advanced ship notices – things that were done with paper in the past – can be transmitted via EDI. EDI compliance is the accurate configuration of order data exchanged from one system to another.
Each retailer specifies which procedures must be followed to conduct business and to become EDI compliant. As an example, Walmart mandates its suppliers use a specific EDI configuration to exchange transaction data with them. New Walmart suppliers need to pass a number of tests to prove they have the required software to ensure a seamless EDI exchange. Smaller businesses wishing to do business with Walmart can use the retailer's web-based system to exchange transactions and become EDI compliant. That system, however, only works with Walmart. Businesses wishing to perform EDI on a broader scale can use in-house or hosted EDI software to do business with larger customers while maintaining Walmart EDI compliance.
EDI software can also integrate with other business systems like eCommerce platforms, enterprise resource planning (ERP) solutions, warehouse management systems (WMS), accounting software and more. Connecting EDI with these systems results in automation of business processes, improved accuracy and greater communication speed.
If you're struggling to keep enough products in stock and to pick, pack and ship them correctly, EDI can help. It will also satisfy those big-box retailers and online marketplaces so they keep placing orders with you. And implementing EDI software doesn't have to be complicated or expensive.
We've worked with hundreds of businesses like yours to help them select technology that facilitates EDI compliance.
These are some of the most common EDI challenges our customers have reported:
Requirement to perform EDI to start or continue a business relationship with a big box retailer
Necessity of making EDI a cost of doing business
Becoming and remaining EDI compliant
Trading partners' EDI requirements can change at any time
Volume of over 100 unique types of EDI documents
Strain on IT resources
Individual POs with a high number of line items
Shipping to numerous stores
Data entry mistakes
Increased labor and paper costs
Slow processing of data and documents
Too many unique requirements with trading partners

Small Changes, Big Impact: Steps to EDI Automation and Integration
You've probably heard the term digital transformation - but you might be wondering what it means, and even more so, what does it mean for your business. Think about it like this: You are likely overwhelmed with decisions more than ever - and looking at new ways to do business to bounce back from a changing world. That can seem like too big an obstacle to take on – but it doesn't have to be that way.
Many of our clients have started with just one single step – making the dive into digital transformation a little less complicated. Making even one small change to your technology can have a big impact in your business. For example, digital transformation could mean a solution to automate your invoicing process. Or maybe a solution to help integrate your CRM system to your business management solution. It's simply embracing technology to help run your business better.
Get our free Understanding Digital Transformation eBook to learn how technology can enable new ways to do business, build resiliency, and help you operate more efficiently.
What if EDI isn't as complicated as you think? By implementing EDI, you could experience all the benefits of integrated EDI such as faster order fulfillment, faster payment, and fewer returns - all with less staff time.
Pour a cup of coffee and tune into this on-demand webinar. Learn about SPS Commerce Cloud EDI, and better understand how through EDI and inbound order automation, you'll see money flow back to your business a lot faster than traditional methods.
Explore Our Blog

Success Stories

Additional Resources
Explore These EDI Blog Posts
Poke around these brief, informative posts about EDI. You'll find lots of free resources, too.
EDI enables up-and-coming companies to level the playing field with larger competitors by cutting through the complexity and cost of doing business with supply chain giants like Amazon. But what exactly is EDI, how does it work, and what are its benefits for businesses like yours?
Check out this blog and an included on-demand webinar to find out!
Automotive businesses in the middle of the supply chain must find ways to better cooperate with other businesses. By working together, businesses can benefit from greater access to data about orders and transactions.
Read this blog to learn more about EDI and its benefits for the industry, and check out an included on-demand webinar to understand how EDI can improve your supplier rating.
Grant Stadheim from SPS Commerce joined Vision33 to discuss the benefits of EDI with a full-service automated solution. There are many reasons why EDI provides strategic benefits to you and your supply chain partners.
Read the blog to learn how EDI can benefit your business or skip to the end to access an on-demand webinar.
Keeping big-box retailers who buy from you happy should be a priority for every organization. Eventually, though, you'll receive so many orders that your team will be overwhelmed with manually processing those orders. This blog explores how EDI can help.
If you're a fast-growth online retailer, it's easy to get buried under the weight of paper-based manual processes when fulfilling more and more customer orders.
Read this blog to learn how EDI can help you overcome these challenges, and don't forget to download the brochure at the end.
The Amazon Effect has reshaped how businesses in the supply chain interact. The speed with which Amazon interacts with customers and its supply chain is due to the efficiency of standardized data and documents they use with their business partners.
EDI solutions ensure your business management system speaks the same 'language' as the supply chain. Learn more in the blog and check out an order-to-cash process demo!
See How Businesses Like Yours Handle EDI Challenges
Press play on quick inspirational success story videos and read case studies to see firsthand how some of our awesome customers have conquered EDI challenges.
With a significant volume of inventory on hand, VIETRI needed a modern technology solution to support its growth.
Read this success story to learn how a combination of EDI, a warehouse management system, eCommerce and a cloud ERP solution has streamlined VIETRI's operations – making the business one of the fastest shippers in the industry.
Since 2005, Juice Beauty has been manufacturing award-winning skincare and makeup made from botanical juices.
Watch this two-minute success story to learn about the technology Juice Beauty chose for its inventory management capabilities, EDI integration, and complete transparency into its growing distribution around the world.
Eastporters Audio Video is the leading provider of home theater projectors and general home theater needs.
Check out this success story to see how Eastporters improved three key areas of their business, enabling them to become more resilient and experience four times their sales forecast during the global pandemic.
Access Some More Resources and Get in Touch
Here is an additional resource for you to check out. Watch this demo about integration and how it can help your EDI processes. If you have any questions or would like to chat about any of these EDI resources, please feel free to drop us a line or chat with us.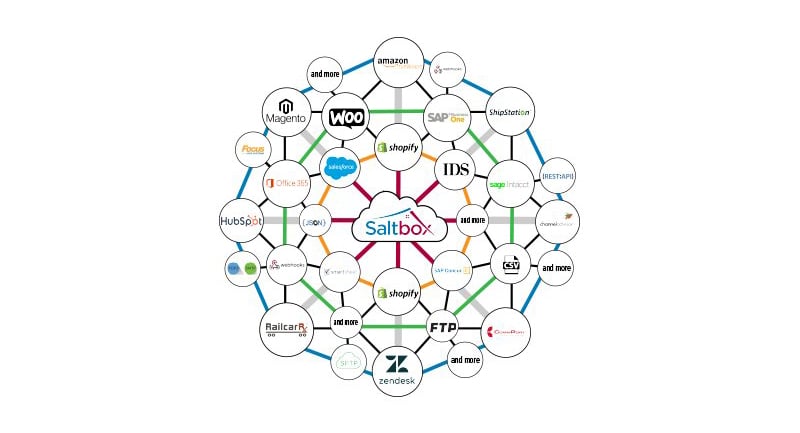 Your business relies on a lot of applications to stay organized, collaborate with your team, and run your operations. If those stand-alone applications and systems can't talk to each other, you're wasting time and money.

Learn about the Saltbox Platform, Vision33's very own born-in-the-cloud Integration Platform as a Service (iPaaS) solution. Find out how Saltbox can connect EDI solutions, such as SPS Commerce Cloud EDI, to your ERP or business management systems.

See the Saltbox Platform in action and understand how you can do more with what you already have.