The business environment has shifted, and more and more businesses are offering their products online. The reality is eCommerce is another distribution channel for many. With that comes a unique set of challenges from setting up an online store, to fulfilling orders, and integrating your other systems with eCommerce sites such as Shopify, WooCommerce and Magento.
These are some of the most common eCommerce challenges our customers have faced:
Sales volume transactions have significantly increased
Tracking orders from placement through delivery is hard and takes too much time
Many different SKUs are difficult to keep track of
Inaccurate orders are leading to low customer satisfaction and a lot of service calls
Orders are getting lost in the system
You don't know an order has been lost until the customer complains it didn't show up
The customer returns process is ineffective


Drop shipments and special orders are past due
Profit margins are difficult to calculate for retailers because of direct and indirect costs
Multiple sites, microsites and third-party sales channels make it impossible to manage inventory
Your accounting system isn't integrated with your website
You don't even have an eCommerce site and you're not sure where to start

Small Changes, Big Impact: Steps to eCommerce Automation and Integration
You've probably heard the term digital transformation - but you might be wondering what it means, and even more so, what does it mean for your business. Think about it like this: You are likely overwhelmed with decisions more than ever - and looking at new ways to do business to bounce back from a changing world. That can seem like too big an obstacle to take on – but it doesn't have to be that way.
Many of our clients have started with just one single step – making the dive into digital transformation a little less complicated. They didn't try to solve all their problems in a day. They just took one step forward asking themselves - what can I automate or integrate to make this one business area run better? Making even one small change to your technology can have a big impact in your business. For example, digital transformation could mean a simple solution to integrate your eCommerce site with your other mission-critical business applications. It's simply embracing technology to help run your business better.
Digital Transformation eBook
Get our free Understanding Digital Transformation eBook to learn how technology can enable new ways to do business, build resiliency, and help you operate more efficiently.
Explore Our Blog

Success Stories

Additional Resources

Podcast
Explore These eCommerce Blog Posts
Poke around these brief, informative posts about eCommerce challenges and how to overcome them. You'll find lots of free resources, too.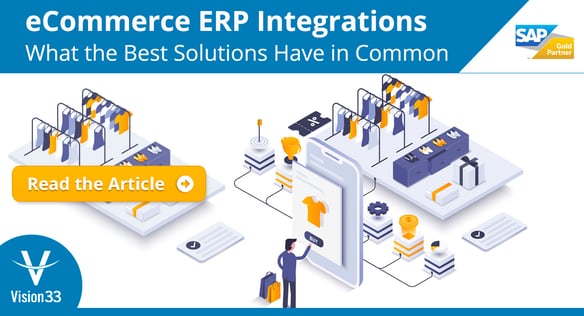 eCommerce ERP Integrations: What the Best Solutions Have in Common
ERP is a versatile category of business management software that gathers all your business's essential functions in one place.
Check out this blog to understand why adopting the best ERP solution to seamlessly integrate with your eCommerce platform will keep your business running smoothly while you grow.
ERP for eCommerce: How to Choose the Right Solution for Your eCommerce Business
Having partnered with hundreds of retailers to improve their business operations by integrating critical business processes with their eCommerce software, we have deep insight into the challenges they face.
Read this short blog for tips on how to choose the right solution for your eCommerce business.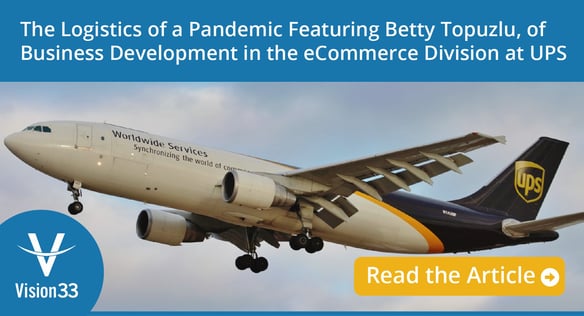 The Logistics of a Pandemic Featuring Betty Topuzlu, of Business Development in the eCommerce Division at UPS
The pandemic caused the global supply chain to tighten, to the point that even shipments across state borders became difficult.
Read the blog and tune into the podcast to learn about the challenges and trends Topuzlu and UPS have seen in the supply chain and get insight into the success of digital transformation.
Streamline Your eCommerce Presence with the Shopify Saltbox Connector
It's never too late to assess your enterprise technology and its impact on your eCommerce channel. In a recent webinar, Shopify's Olivia Boersen and Vision33's Michelle Dowden talk about syncing your Shopify web store with your ERP system to streamline your e-commerce presence.
Read more and watch the included on-demand webinar at your convenience.
See What eCommerce Businesses Like Yours Are Up To
Read these inspirational success stories to see firsthand how some of our awesome customers have conquered their eCommerce challenges.
Established in 1981, Staub Electronics is one of Canada's premier distributors of consumer electronics.
Plug into this success story to learn how a combination of e-commerce and EDI has reduced Staub's order processing time by 30%.
VIETRI is the largest importer of vibrant, unique handcrafted Italian tableware and home décor.
Read this success story to learn how a combination of EDI, a warehouse management system, eCommerce and a cloud ERP solution has streamlined VIETRI's operations.
Eastporters Audio Video is the leading provider of home theater projectors and general home theater needs.
Check out this success story to see how Eastporters improved three key areas of their business, enabling them to become more resilient and experience four times their sales forecast during the global pandemic.
Check Out These Resources Too
Here are even more eCommerce resources for you to explore, including demos of our integration platform and portals that extend your data and provide self-service convenience for your employees, customers and vendors.
If you have any questions or would like to chat about any of these eCommerce resources, please feel free to drop us a line or chat with us.
Your business relies on a lot of applications to stay organized, collaborate with your team, and run your operations. If those stand-alone applications and systems can't talk to each other, you're wasting time and money.
Learn about the Saltbox Platform, Vision33's very own born-in-the-cloud Integration Platform as a Service (iPaaS) solution. Simply put, the Saltbox Platform can connect just about anything.
See the Saltbox Platform in action and understand how you can do more with what you already have.
Having your Shopify eCommerce integrate and interact with your ERP solution doesn't have to be a big ordeal.
With Vision33's Pre-Built Shopify Saltbox Connector, you can automate item and inventory updates, and manage and update delivery and fulfillment information back to Shopify.
Pour a cup of coffee, put your feet up, and watch this webinar to learn how you can manage your entire business process with an integrated Shopify web store.
We live in a self-service world – we expect the information we want anytime we want it. The Vision33 web portal add-ons for SAP Business One enable self-service access to real-time information in SAP Business One anytime, anywhere, and on any device.
See the Employee, Customer and Vendor Portals in action in brief on-demand demos.
Listen to Our Podcasts
Each week, Vision33's Carl Lewis interviews bright minds and industry thought leaders about enterprise technology and what's coming next. We thought you might enjoy these episodes:
Carl Lewis chats with Jeff Ross of ShipStation about the enterprise technologies that businesses are looking for to address the increasing demand in the eCommerce world.
Fasten your seatbelt for this conversation between Carl and Kyle Tucker of Detroit Speed, a manufacturer of components for the automotive aftermarket. Find out how an ERP system allowed the company to connect inventory online from its B2B side to its B2C side through an eCommerce site.
In this episode, Carl speaks with Ian Hobkirk, CEO of Boston-based Commonwealth Supply Chain Suppliers. Tune in to hear about automation trends Ian is seeing in the industries he works with.