A bill of materials (BOM) is the heart of any manufacturing business. This comprehensive list of required parts, items, raw materials and assemblies that you need to manufacture your product must be carefully managed. Things get even more complex if your business manufactures many different things that each require its own BOM. And if you're using outdated or inadequate software, you know how difficult it is to automate and streamline the BOM process.
Regardless of what you manufacture or what type of BOM your business utilises, an accurate and well-managed BOM can increase revenues with faster product releases and lower product costs. On the other hand, a poorly managed BOM can lead to longer time to market and profit loss.
The manufacturing industry is challenging enough. You shouldn't have to waste time with piles of spreadsheets to manage your BOM. We've worked with countless manufacturing businesses of all sizes to help them find technology that streamlines their manufacturing processes and automates the simple to the most complex of BOMs.
These are some of the most common BOM challenges our customers have faced:
Difficulty creating multi-level BOMs
Inaccurate BOMs leading to extra costs or product liabilities
A lack of support for variant configuration
Shipment delays from missing parts
Input of data on a BOM by BOM basis
A lack of material requirements planning (MRP) capabilities

Small Changes, Big Impact: Understanding Digital Transformation
You've probably heard the term digital transformation - but you might be wondering what it means, and even more so, what does it mean for your business. Think about it like this: You are likely overwhelmed with decisions more than ever - and looking at new ways to do business to bounce back from a changing world. That can seem like too big an obstacle to take on – but it doesn't have to be that way.
Many of our clients have started with just one single step – making the dive into digital transformation a little less complicated. Making even one small change to your technology can have a big impact in your business. For example, digital transformation could mean a solution to automate your invoicing process. Or maybe a solution to help integrate your CRM system to your business management solution. It's simply embracing technology to help run your business better.
Get our free Understanding Digital Transformation eBook to learn how technology can enable new ways to do business, build resiliency, and help you operate more efficiently.
Bill of Materials Best Practices eBook
Consider this free eBook a recipe for success. It explains how getting a handle on your BOMs will help you improve your bottom line.
Whether you're setting up BOMs for the first time or trying to improve your production, you'll see how the right technology will give you the ingredients you need to streamline your operations and outshine your competition.
Explore Our Blog

Success Stories

Additional Resources

Podcast
Explore These Bill of Materials Blog Posts
Have a look through our top blog posts about the BOMs. Get a better handle on what they are, the challenges around them, and solutions that might help you better manage the BOM process. You'll find lots of free resources, too.
4 Types of Bill of Materials Explained
Generating BOMs and keeping track of the entire production process stage-by-stage can be complex and error-prone.
Read this blog to learn about BOMs, and an enterprise resource planning (ERP) solution that can save you time and ensure accuracy. Check out the video in there as well.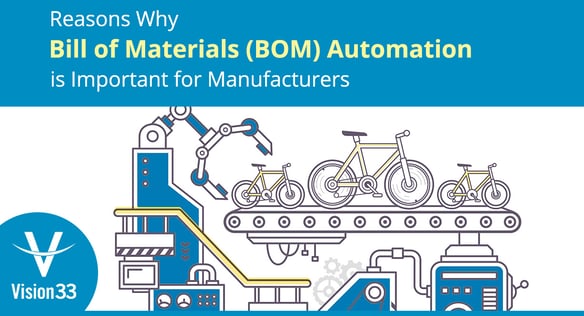 Bill of Materials Automation is Important for Manufacturers
Accurate BOMs is critical to manufacturers – and equally important is ensuring that your business has the technology in place to automate BOMs.
Check out this blog to learn about technology that can streamline and automate your BOM management process. There's a short video in there too.
Definition of BOMs and Best Practices
While an accurate and well-managed BOM can increase sales revenue through faster product releases and lower product costs, a poorly executed BOM can lead to loss of revenue.
Read this brief blog and tune into the included webinar for tips and tricks related to BOM best practices.
Have a Customer on the Line? Here's How a BOM Ensures Your Relationship Isn't
If your salesperson makes a promise you can't keep, you could lose not only the customer, but also their future business.
Learn how a BOM report in an ERP solution can help. Give this blog a read and tune into a video demonstration.
See How Businesses Like Yours Handle Bill of Materials
Hit the play button on quick, inspirational videos and read success stories to see firsthand how some of our awesome customers have gotten a handle on their BOM management.
Advance Adapters has designed, engineered, and manufactured transmission conversion adapters, transfer case conversion adapters, and engine mounts for vehicles since 1971.
Get revved up by this three-minute video that will show you how the right technology has transformed the way Advance Adapters does business and has led to the company almost tripling in size.
Richardson Caps manufactures a huge range of headwear for customers around the globe.
Tune into this quick video to learn about the technology that supports their high-quality manufacturing standards and ensures they can always offer their customers the right product at the right time.
McRoskey Mattress Company has been manufacturing mattresses for over 100 years.
Watch this short video to learn how their ERP solution enables McRoskey to run sales, production, fulfilment and accounting in one easy-to-use system.
Emerald Home Furnishings is a supplier of furniture to home furnishings retailers worldwide.
Watch this quick video to learn about the user-friendly solution that has transformed the company's inventory management, streamlined its business processes and created efficiencies in its manufacturing and production processes.
Access More BOM Resources and Get in Touch
Here are even more BOM resources for you to explore. These videos highlight how you can better manage your Bill of Materials and order management process. And be sure to check out our Saltbox Demo to learn how an integration platform can save you time, money and energy by integrating your manufacturing and business management solutions.
If you have any questions or would like to chat about any of these BOM resources, please feel free to drop us a line.
Beas Manufacturing with SAP Business One
See how a company that provides beds and mattresses made to customers' specifications found a technology solution that offers everything they need to run their business.
Watch this quick video to learn how Beas Manufacturing with SAP Business One has given the company complete control over material planning, order management, cost analysis and item traceability.
Watch this short success story of an equipment manufacturer to see how they got a grip on order management, eliminated manual processes and tightened up their BOMs. You'll also see how they now have traceability from the warehouse right through to service care.
If your business is manufacturing or wholesale distribution, SAP Business One may be the ideal solution. Explore the resources in the SAP Business One Info Kit below to see how this solution can help with your banking processes.
Your business relies on a lot of applications to stay organised, collaborate with your team, and run your operations. If those stand-alone applications and systems can't talk to each other, you're wasting time and money.
Learn about the Saltbox Platform, Vision33's very own born-in-the-cloud Integration Platform as a Service (iPaaS) solution. Simply put, the Saltbox Platform can connect just about anything.
See the Saltbox Platform in action and understand how you can do more with what you already have.
Listen to Our Podcasts
Each week, Vision33's Carl Lewis interviews bright minds and industry thought leaders about enterprise technology and what's coming next. We thought you might enjoy these episodes:

Each week, Vision33's Carl Lewis interviews bright minds and industry thought leaders about enterprise technology and what's coming next. Check out this podcast to learn about integration and process automation, and the role it can play in your banking processes.